Once you have bought the wine you are prompted to decide what you wish to do with it.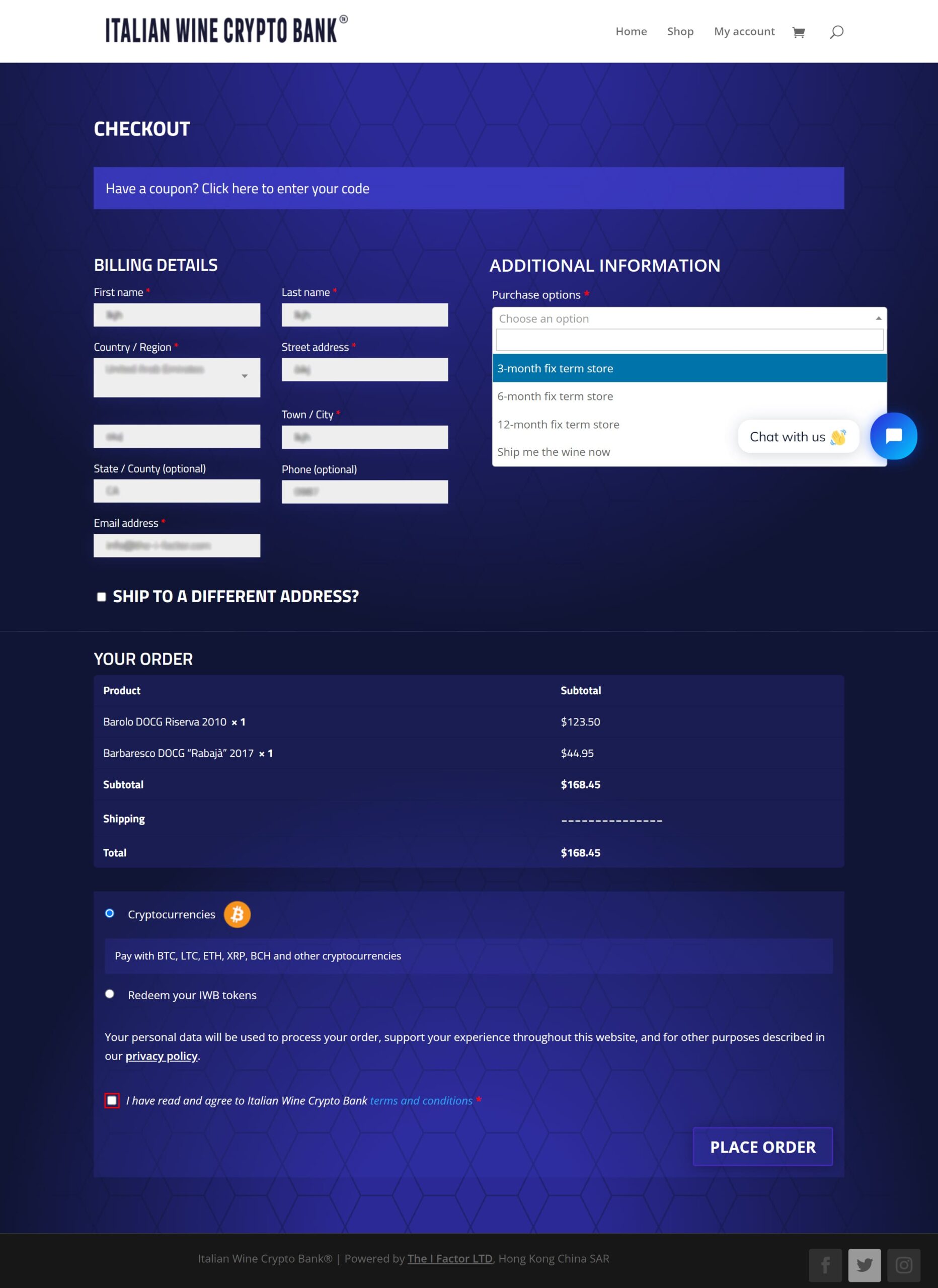 When you are in CHECK OUT go to the PURCHASE OPTIONS and select SHIP ME THE WINE NOW
Fill in the details in SHIPPING ADDRESS if it is different from the BILLING ADDRESS
Proceed to Payment
Expect an email from us with the quotation for the shipping and customs costs that change accordingly to the country of the Order.
Please note that you are the only owner of the purchased wines as soon as you made the payment. We can organise for you the shipping of the wine (including its custom clearance and insurance) for the fee included in the above-mentioned quotation. However, you are most welcome to organize the shipping by yourself, with your agents, and we will keen to co-operate with them.
Our shipping costs in broad terms are in line with the market, you can check this provider to have a preliminary idea.
STORE THE WINE WITH US AND GET UNIQUE REWARDS
IWCB Privilege Club members / Account Holders are encouraged to store and age the wine they purchased, for fixed terms, in IWCB insures guarded warehouses, in appropriate conditions, either in Italy or abroad.
Members who leave their wine in IWCB storage have the sole property of the wine and are also the only beneficiary of the insurance policy covering it. The costs of the insurance and storing are borne by IWCB up to one year.
In this way they wait for either the best market price to trade in them or the right maturation to drink it.  At the same time though they are entitled to the unique IWCB's CRYPTO+WINE bonus,
The CRYPTO+WINE bonus entitles Members to receive up to the 50% of any increase in value of the cryptocurrency they used to purchase the wine. A the end of the storage term, they have the right to pick wines from the IWCB Cellar for the amount matured with the increase. See the options, the terms and the conditions here.
How you can select the lenght of your deposit:
When you are in CHECK OUT go to the PURCHASE OPTIONS and select the fixed term that you prefer.
For more information click here and make sure that you read the Terms and Conditions
Proceed to Payment
REQUEST DELIVERY ANYTIME
You can but you lose the bonus